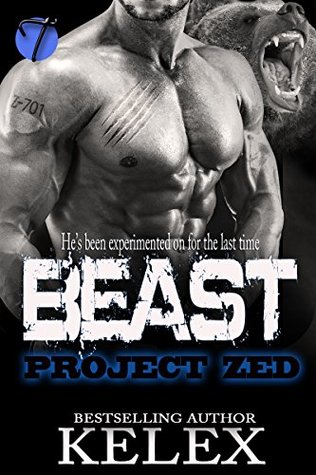 TITLE: Beast: A Bear Mountain Story
AUTHOR: Kelex
SERIES: Project Zed
PUBLISHER: Twisted E Publishing
COVER ARTIST: K Designs
GENRE: Paranormal; Shapeshifter
E-BOOK: Yes
PAPERBACK: No
LENGTH: 161 pages
RELEASE DATE: February 20, 2017
PRICE: $3.99 -e-book

BLURB:
A shifter altered into a beast, transformed into a weapon…
Subject Z-701 has few memories. Kept in a drug-induced haze and controlled through neural transmitters, he's let out of his cage when death and destruction is what's desired.
Until an accident changes his fate.
Freedom beckons, but he finds himself in yet another cage. Without the drugs, the voices get louder, pushing him to the edge of his already precarious sanity.
If it wasn't for him, the one person able to calm the voices and keep him from teetering into the abyss.
Samuel…
Tossed between heaven and hell, he must forge a path toward Samuel or be lost forevermore.
Project Zed is a spin-off series from the Bear Mountain series. Readers do not need to have red Bear Mountain prior to reading this book, but it is highly recommended.
This book is intended for a mature audience.
---
Beast is the first book in the Project Zed series by Kelex. It's well written and nicely edited. The
Project Zed series is a branching off of the Bear Mountain series, and so if you have read the Bear Mountain series, then you know the background of most of the characters in the book. However, if you haven't read the Bear Mountain series as I haven't, the author does a great job of explaining all of the important people and who they are mated to under the author notes at the front of the book. I found this to be tremendously helpful, and I had no problem reading the book.
Project Zeb's a top secret government project where shifters, were and full, are hunted and executed without the knowledge of the military/government as a whole. Covertly, some creatures have been captured and experimented on, with the desire to breed a super army. While it pulls from the U.S. military for operations, there's a rumor it's not run by the government at all.
Cal Miller or Subject Z-701 was kidnapped and experimented on. After splicing different DNA onto his bear shifter DNA and putting in a neurological device to be able to control him, he was made into the perfect soldier. Cal was kept in a cage for 40 years and only allowed out when death and destruction are what's desired. All he could focus on is the revenge for the ones that have done this to him and the numerous voices in his head that are driving him insane.
Samuel's a shaman for the reservation that's north of Bear Mountain. He helps with enchanting the cage so that it can stand up to the monstrous beasts that they rescue. He also has an agreement to house the beast as they are rehabilitated, if they can be rehabilitated. Samuel's drawn to Cal and wants to help him. And with the help of Bull, Killian, and Finn, they are able to calm the voices in his head and help him. But Colonel James Lore, who's the head of Project Zed, wants Cal back.
I loved the chemistry between Cal and Sam, and I can't wait to see who their third mate's going to be. I do love that it looks like most mates are triad relationships between two shifters and a human. And I need to see what happens with the next beast to be rehabilitated. And what happens with Colonel Lore. I can't wait to read the next book when it comes out to find out what happens next.
***The ARC was provided by Twisted E Publishing. My review is an honest opinion of the book***