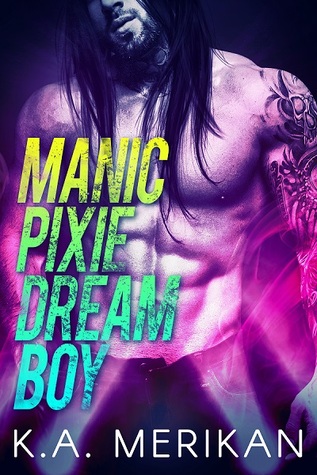 TITLE: Manic Pixie Dream Boy
AUTHOR: K.A Merikan
SERIES: The Underdogs
PUBLISHER: Acerbi & Villani Ltd
COVER ARTIST: Natasha Snow
GENRE: Contemporary Romance
E-BOOK: Yes
PAPERBACK: No
LENGTH: 143 pages
RELEASE DATE: September 10, 2017
PRICE: $3.99 -e-book

BLURB:
—. You can't hide the cracks under the spotlight .—
Dusk. Leader of The Underdogs. Destined for greatness. Lives in the now.
Abe. AKA Lolly. Iridescent. Unicorn.
All Dusk wants out of life is for his band to become world famous. He also wants to have a lot of fun along the way. And to get his rocks off. When he wants something, he goes for it, consequences be damned.
So when he sees a gorgeous pink-haired guy who is the human equivalent of tattooed cotton candy, he can't help but have a taste. But it's when Lolly ends up on their tour bus that Dusk knows their meeting was destiny.
Abe is the kind of guy who goes with the flow. He was hitchhiking anyway, so why not spend the week with a hot piece of rocker beefcake, getting smothered by his sexy long hair? And why not play the part of the supportive cutie while he's at it? It's not like he'd be sticking around for long anyway.
All plans hit a wall when photos of Abe and Dusk emerge online, suddenly pushing the band into the spotlight. To take advantage of the sudden popularity, the band offers Abe money for staying.
Which means money for being in a fake relationship with Dusk.
Which isn't even fake.
Or is it?
POSSIBLE SPOILERS:
Themes: rock band, alternative lifestyles, tattoos, bisexuality, commitment, instalove, abandonment issues, fame, outing, coming out, life on tour
Genre: Contemporary M/M Rocker Romance
Heat level: Scorching hot, explicit scenes
Length: ~52,000 words (Can be read as standalone, HEA)
---
Dusk is the leader of The Underdogs, a rock band who's performing from stage to stage, dreaming of finding the good opportunity to become famous.
Abe is a young artist on the road, he has no family, no attachments, just him and his art.
When Dusk sees Abe, the only thing he wants is him, and after a hot and explosive encounter, he invites Abe to come with him and his band on tour.
What started as just 2 hot men enjoying a life without strings together becomes a marketing couple for the group.
I really enjoyed this book, it was a sweet, fun, hot read.
Abe is funny, smart, talented and super sexy. He is crazy about Dusk, but, he's afraid to admit it, and he rather chooses to leave him than to be hurt.
Dusk is adorable, he's so crazy about Abe that the only thing that matters for him is Abe's comfort, and well-being. Even when he messes up with Abe, it isn't because he's an asshole or something, but only because he wants to please Abe.
He broke my heart when he had his own heart broke.
The writing is dynamic and fluid. The story and plot are well built.
The secondary characters are interesting, and I want to know more about them, especially Mage and Dawn 😉
Besides, K.A Merikan created a universe full of music, fun and hot sex, it's like being on tour with the Rolling Stone in the 70's… with all the band gay of course.
I highly recommended this book, it's a fun read, very pleasurable and hoooot.
***I would like to thank the author for the privilege and opportunity of reading this ARC. My review is an honest opinion of the book***